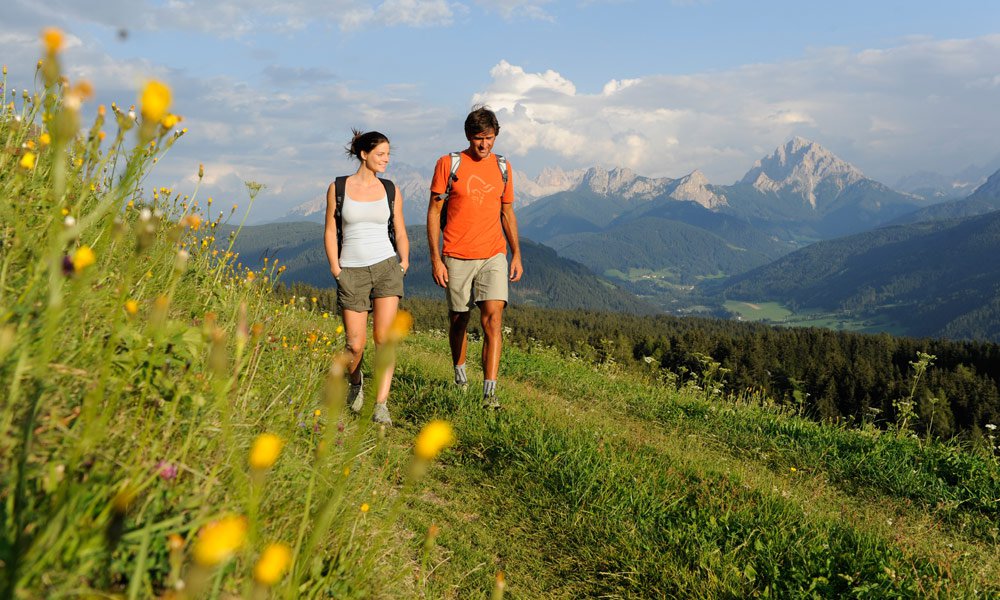 Leaving directly from the hotel you hike in an easterly direction to the Huberhof Farm and on to Alpeggerhof; here you cross the river and take path no. 5 to the Tötscherhof Farm; turn right and hike to Oberpertingerhof and on to the Nunnewieser farm. Continue on path no. 5 until reaching the "Devils' Stone" and on to Pertinger Alm Hut. The hut is open from May to October. If you are fit again after enjoying a break in the hut you can continue your hike up to the saddle (Joch).
Walking time: approx. 4.5 hours
Variation 1
Take the car up to the car park past Nunnewieser. From here you can reach the hut in approx. 50 minutes. A comfortable hike for the whole family, which can also be done with a pram.
In winter the hut is open from December to March. You can descend with a sleigh.
Variation 2
We will drive you up to Nunnewieser from where you can hike up to Pertinger Alm. Then continue on path no. 5 A on the so-called "Gamssteig" to Mair am Hof Hut at 2092 m and on to Huber Hut and to the waterfall; then take path no. 23 leading out of the valley and to Astnerberg Hut, which is open from May to November. Continue in the direction of Gols on path no. 8 and then no. A8 back into the valley and to the hotel.
Walking time: approx. 5.5 hours
Note: difficult